Toy Car Belt
My little man has a car in his hand at all times! And I can't tell you how many times he has carried one in to a restaurant or store and lost it! This toy car belt is the perfect place for little man to store his cars and keep them close and tucked away so they don't get lost!
This is just one of my 50+ easiest sewing tutorials. Check out the rest HERE.
Toy Car Belt
I am so excited to be participating in Craft Lightning! This fun toy car belt is a quick and easy project that will keep your little one entertained for hours!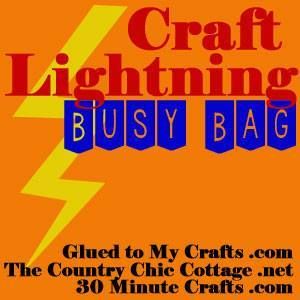 For this project we just need two cuts of fabric. For the first cut you will need to measure the waist of the little person that this is going to belong to. My little guy has a 20 inch waist and so I added in a few inches for seam allowance and I cut the piece to be 4″ by 26″. The second piece is 14″ by 20″.
We are going to start with the long thin piece. Fold it in half right sides together (hot dog style…do they still say that?) Sew down one of the short edges and then across the entire long edge, this will create a long tube.

Turn the tube out and press the seam in place.

We are done with that piece for now. Next we will get the other piece ready. Fold it in half so you have a piece that is 14″ by 10″ and sew along both 10″ sides (but not across the 14″ top.)

Turn this piece out and press the side seams in place. Then fold the open edge over 1/4″ as pictured below.
Now fold the long tube you sewed earlier in half to find the middle and fold the main piece in half to find it's middle. Line them up so that the middles are together and place the pressed edge down. Then we will sew the long belt to the main piece.
This is what it will look like when you have sewed it in place.

Only a few more steps and you will be done! Fold the edge up as pictured below. We are ready to start creating the pockets for the cars.

Grab some cars and place them about 1/2″ apart.

Put a pin in each 1/2″. This is where you will sew your line to create the pockets. Move the cars along placing pins as you go.
Sew along each marked line. Don't forget to sew the far right and far left edge as well.
Just two small loose ends and the project is done. We left the belt open at the end. Press the raw edge in about 1/2″.
Then place velcro so that the belt is easy to attach. As you sew the velcro in place you will also close up the open end of the belt, 2 birds one stone scenario.
And that is it. You now have a car belt that is ready for use!
I did have to do a little altering because my little one has such a tiny waist! I just folded the belt under (you can see it in the bottom right corner of this picture) and sewed it in place. I can let that out later when he grows!
Looking to sew another fun activity to go with this one? Why not make this fun little street play mat?
I hope your little one enjoys this as much as mine does! It didn't take long for him to find other things to use it for. He also uses it to store whisks and spoons when he helps cook!